About us
We are your premier destination for top-quality wraps and signage solutions. With our expertise in graphic design and industry-leading materials, we strive to transform your vision into eye-catching reality. Whether you're looking to enhance your brand identity, promote your products or services, or simply stand out from the competition, our team is here to make it happen.
At MisterStudio, we understand the power of first impressions. That's why we offer a wide range of wrap and signage options tailored to meet your unique needs. Our experienced designers work closely with you to create captivating designs that align with your brand aesthetic and effectively communicate your message. From concept to installation, we ensure meticulous attention to detail, ensuring a seamless and professional result.
Vehicle wraps are one of our specialties, allowing you to turn your fleet into moving billboards that capture attention wherever they go. Our skilled technicians use high-quality vinyl materials and state-of-the-art techniques to deliver vibrant and durable wraps that protect your vehicle's original paint while promoting your business. Whether it's a single vehicle or an entire fleet, we can handle projects of any scale.
Looking to make an impact beyond the road? Our signage solutions have you covered. From storefront signs to trade show displays, we create stunning visuals that demand attention. Using cutting-edge technology and premium materials, we craft signage that reflects the essence of your brand, ensuring your business stands out from the crowd. With MisterStudio, your message will leave a lasting impression on customers and passersby.
We pride ourselves on delivering exceptional customer service. Our team is dedicated to understanding your specific goals and objectives, allowing us to provide tailored solutions that meet your expectations. We value collaboration and transparency, keeping you informed at every stage of the process and ensuring your complete satisfaction with the final result.
As a customer-centric company, we prioritize efficiency and timeliness. We understand that time is of the essence in business, which is why we strive to meet your deadlines without compromising on quality. Our streamlined production process and skilled team enable us to deliver projects promptly, so you can start reaping the benefits of our wraps and signage solutions as soon as possible.
When you choose MisterStudio, you're choosing excellence. Our commitment to using top-of-the-line materials and employing skilled professionals sets us apart from the competition. We continuously stay up-to-date with the latest industry trends and techniques to provide you with innovative and effective solutions. With us, you can trust that your wraps and signage will exceed your expectations.
Explore our portfolio to see the exceptional work we have done for our satisfied clients. We are proud to showcase our diverse range of projects, from small businesses to large enterprises, each with its own unique requirements. Let our portfolio inspire you and give you confidence in our ability to bring your vision to life.
Contact us today to discuss your wrap and signage needs. Our friendly and knowledgeable team is ready to guide you through the process, answer any questions you may have, and provide you with a customized quote. Experience the MisterStudio difference and unlock the full potential of your brand with our wraps and signage solutions.
Our Mission
At MisterStudio LLC, our mission is simple: to provide our clients with high-quality design, graphic, vinyl window, and vehicle wrapping products that help them stand out in today's competitive marketplace. We are committed to exceeding our client's expectations through exceptional customer service, innovative designs, and the use of state-of-the-art technology. Our goal is to help our clients achieve their business goals by creating strong, memorable brands that leave a lasting impression.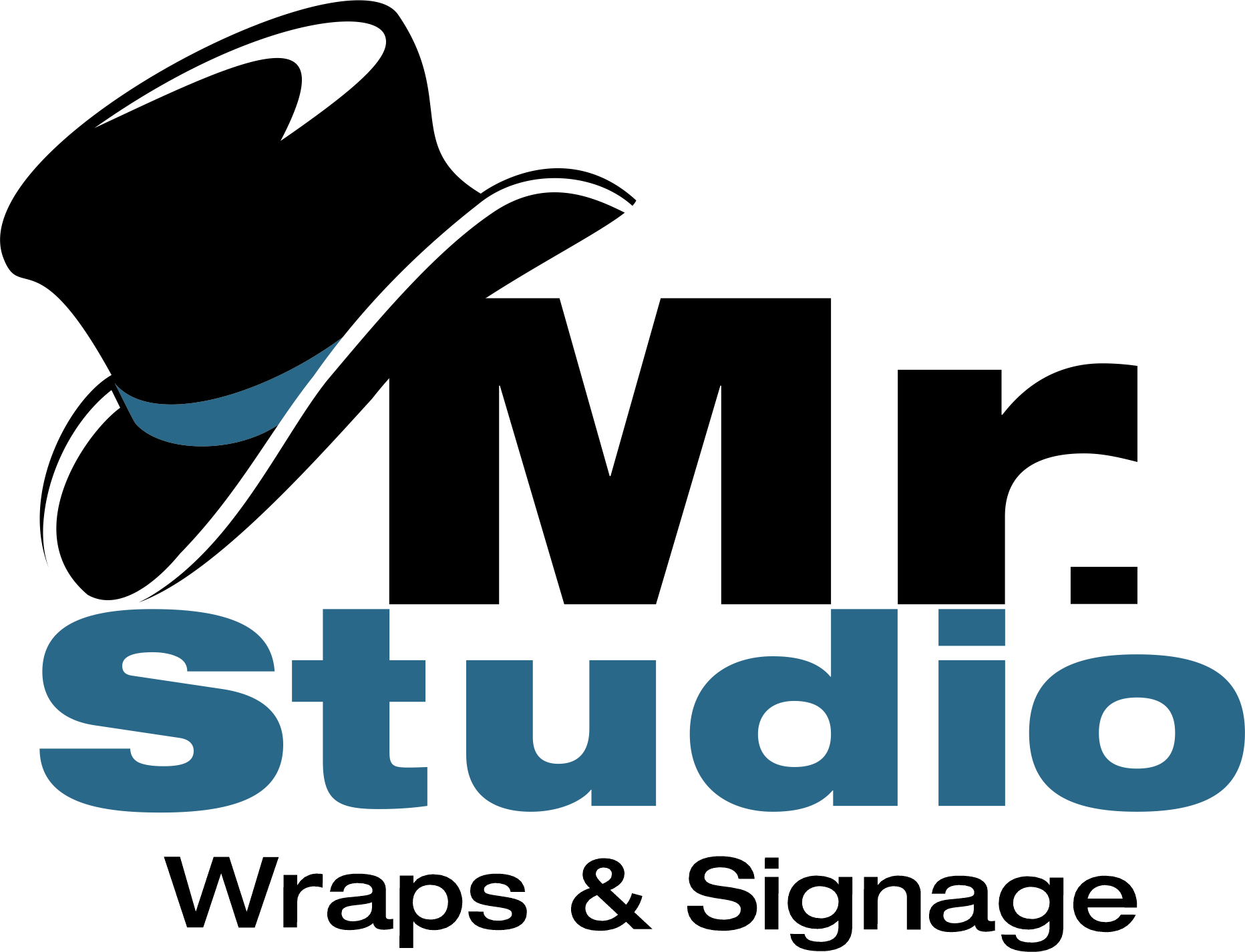 Wrap it up in style.